One more year, free tickets will be distributed among people with economic difficulties
The San Sebastian City Council sponsors the City of Donostia / San Sebastian Audience Award for the sixth consecutive year, intended as a tribute from the City Council to the citizens, who are the ones who will deliver the award through their vote. This initiative has been carried out as part of the legacy of San Sebastián 2016, European Capital of Culture.
14 of the 17 films presented this year at Perlak, a section made up of titles awarded or acclaimed at other international festivals, compete for the City of Donostia / San Sebastián Audience Award. The screenings will take place at the Victoria Eugenia Theatre and the audience attending the first screening of each film will be able to vote to choose the winner. The award will be presented at the Festival Closing Gala.
The City of Donostia / San Sebastián Audience Award are two different accolades: a Best Film Award, coming with 50,000 euros, and a Best European Film Award of 20,000 euros. Thanks to this award, the two winning films will be forever connected to the city.
Last year the City of Donostia / San Sebastian Audience Award for Best Film went to The Father by Florian Zeller, winner of the Academy Award for the Best Leading Actor (Anthony Hopkins) and the Best Adapted Screenplay, as well as the Goya for the Best European Film. For its part, El agente topo / The Mole Agent, by Maite Alberdi, received the City of Donostia / San Sebastián Audience Award for the best European film and participated in the contest for the Oscar for the Best Documentary Feature Film.
This year the image of the presentations of the films in the Perlak section will be renewed. For several editions, Izibene Oñederra's work has been shown on the Victoria Eugenia Theatre screen. From this edition on, the poster of the Basque artist and filmmaker Bego Vicario will be on display. These commissions are part of the Festival's philosophy that Basque art from different disciplines be present at the event. Isabel Herguera, in 2015, and Izibene Oñederra, in 2016, were the first artists to design the posters for the Basque Cinema and Perlak, respectively. In this edition, the creations of Udane Juaristi and Bego Vicario will take over.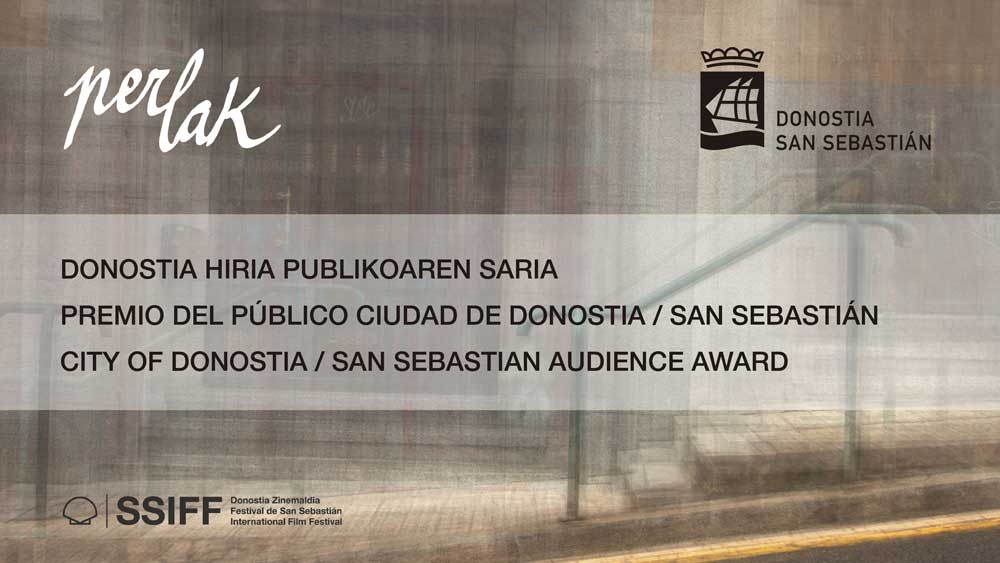 Free tickets for people with economic difficulties
Also, the City Council and the Festival will allocate a number of tickets to the Department of Social Action for distribution among people with economic difficulties. In this edition, and due to the reduction of the capacity and the number of tickets, both parties have agreed to distribute through the municipal services of Social Action a number of tickets –still to be determined– among those groups with greater economic needs.
Competencia oficial / Official Competition
Gastón Duprat (Argentina)
, Mariano Cohn (Argentina)
Country(ies) of production:
Spain - Argentina
Cast:
Penélope Cruz
, Antonio Banderas
, Oscar Martínez
Opening Film (In competition)
In search of significance and social prestige, a billionaire businessman decides to make a film to leave his mark. To do it, he hires the best: a stellar team made up of the famous filmmaker Lola Cuevas and two renowned actors, both with enormous talent, but with even bigger egos: the Hollywood actor Félix Rivero and the radical thespian Iván Torres. Both are legends, if not exactly the best of friends. Through a series of increasingly eccentric challenges set by Lola, Felix and Iván must face not only each other, but also their own legacies.

Benedetta
Paul Verhoeven (Netherlands)
Country(ies) of production:
France - Netherlands
Cast:
Virginie Efira
, Charlotte Rampling
, Daphné Patakia
, Lambert Wilson
, Olivier Rabourdin
In the late 15th century, with plague ravaging the land, Benedetta Carlini joins the convent in Pescia, Tuscany, as a novice. Capable from an early age of performing miracles, Benedetta's impact on life in the community is immediate and momentous.

Guzen to sozo / Wheel of Fortune and Fantasy
Ryusuke Hamaguchi (Japan)
Country(ies) of production:
Japan
Cast:
Kotone Furukawa
, Ayumu Nakajima
, Hyunri
, Kiyohiko Shibukawa
, Katsuki Mori
, Shouma Kai
, Fusako Urabe
, Aoba Kawai
Three stories driven by chance and the imagination in which the lives of the female characters are marked by their choices and regrets. An unexpected love triangle, a failed seduction trap and an encounter resulting from a misunderstanding lend shape to a triptych connected by memory, deceit and fate.

Jane par Charlotte / Jane by Charlotte
Charlotte Gainsbourg (France - United Kingdom)
Country(ies) of production:
France
With the tremor of time passing by, Charlotte Gainsbourg started to look at her mother Jane Birkin in a way she never did, both overcoming a shared sense of reserve. Through the camera lens, they expose themselves to one another, begin to step back, leaving space for a mother-daughter relationship to unfold.
La croisade / The Crusade
Country(ies) of production:
France
Cast:
Laetitia Casta
, Joseph Engel
, Louis Garrel
Abel and Marianne discover that their 13-year-old son Joseph has secretly sold their most precious possessions. They soon find out that Joseph is not the only one - all over the world, hundreds of children have joined forces to finance a mysterious project. Their mission is to save the planet.
Les illusions perdues / Lost Illusions
Country(ies) of production:
France
Cast:
Benjamin Voisin
, Cécile de France
, Vincent Lacoste
, Xavier Dolan
, Gérard Depardieu
, Salomé Dewaels
Lucien is a young unknown poet in 19th century France. He has great hopes and wants to forge his destiny. He leaves the family printing house in his native province to try his luck in Paris on the arm of his patroness of the arts. Quickly left to fend for himself in this fabulous town, the young man will discover what goes on behind the scenes in this world devoted to the law of profit and pretense. A human comedy where everything can be bought or sold, literary success like the press, politics like sentiments, reputations like souls.
Les intranquilles / The Restless
Joachim Lafosse (Belgium)
Country(ies) of production:
Belgium - France
Cast:
Leïla Bekhti
, Damien Bonnard
Leila and Damien are deeply in love. Despite his bipolarity, he tries to pursue his life with her, knowing he may never be able to offer her what she desires.

Ouistreham / Between Two Worlds
Emmanuel Carrère (France)
Country(ies) of production:
France
Cast:
Juliette Binoche
, Didier Pupin
, Emily Madeleine
, Evelyne Porée
, Hélène Lambert
, Léa Carne
Best-selling author Marianne Winckler decides to write a book about precarious working conditions and sets out to experience the reality for herself. Without revealing her true identity, she lands a job as a cleaner in a town in Normandy, in northern France, discovering a life ignored by the rest of society where every euro earned or spent counts. Despite the harshness of the situation, the solidarity between colleagues creates a strong bond of friendship between Marianne and her co-workers. Lending one another a hand leads to friendship and friendship leads to trust. But what happens to that trust when the truth comes to light?
Petite maman
Country(ies) of production:
France
Cast:
Joséphine Sanz
, Gabrielle Sanz
, Nina Meurisse
8-year-old Nelly has just lost her grandmother. While helping her parents, she explores the surroundings of the house where her mother, Marion, used to play as a child. There she discovers the treehouse she's heard so much about. One day her mother abruptly leaves. Nelly meets a girl her own age in the woods and together they set about building a treehouse. Her new friend is called Marion.

Re Dai Wang Shi / Are You Lonesome Tonight?
Country(ies) of production:
China
Cast:
Eddie Peng
, Sylvia Chang
, Yanhui Wang
, Yu Zhang
, Peiyao Jiang
, Xin Lu
, Yongzhong Chen
, Fei Deng
A young man who believes he has caused a fatal accident develops an ambiguous relationship with the dead man's widow, while a policeman tries to resolve the investigation that will change his life forever.

Red Rocket
Country(ies) of production:
USA
Cast:
Simon Rex
, Suzanna Son
, Bree Elrod
, Ethan Darbone
Mikey Saber is a washed-up porn star who returns to his small Texas hometown, not that anyone really wants him back.
The French Dispatch
Country(ies) of production:
USA
Cast:
Bill Murray
, Frances McDormand
, Timothee Chalamet
, Elisabeth Moss
, Owen Wilson
, Saoirse Ronan
, Christopher Waltz
, Benicio del Toro
, Tilda Swinton
, Edward Norton
, Lea Seydoux
, Willem Dafoe
, Liev Schreiber
, Adrien Brody
, Rupert Friend
The film is a love letter to journalists set in an outpost of an American newspaper in a fictional 20th Century French city and brings to life a collection of stories published in The French Dispatch magazine. The cast includes Benicio Del Toro, Frances McDormand, Jeffrey Wright, Adrien Brody, Timothée Chalamet, Léa Seydoux, Tilda Swinton, Mathieu Amalric, Lyna Khoudri, Stephen Park, Owen Wilson and Bill Murray.

The Power of the Dog
Jane Campion (New Zealand)
Country(ies) of production:
New Zealand - Australia
Cast:
Benedict Cumberbatch
, Kirsten Dunst
, Jesse Plemons
, Kodi Smit-McPhee
Charismatic rancher Phil Burbank inspires fear and awe in those around him. When his brother brings home a new wife and her son, Phil torments them until he finds himself exposed to the possibility of love.
Tout s'est bien passé / Everything Went Fine
Country(ies) of production:
France
Cast:
Sophie Marceau
, André Dussollier
, Charlotte Rampling
Emmanuèle's father is hospitalised following a stroke, aged 85. When he wakens, debilitated and unable to fend for himself, this man, curious by nature and with a passion for living, asks his daughter to help him end his life.