The festivals of Venice, Locarno, Karlovy Vary, Zurich, Seville, Gijón, Huelva and Vilnius endorse the support statement of the San Sebastian Festival, Basque Film Archive a and Elías Querejeta Zine Eskola for the Cinemateca Brasileira.
The director of the Venice Film Festival, Alberto Barbera, the artistic director of the Locarno Film Festival, Giona A. Nazzaro, the artistic director of the Karlovy Vary International Film Festival, Karel Och, the artistic director of the Zurich Festival, Christian Jungen, the director of the Seville Festival, José Luis Cienfuegos, the director of the Gijón International Film Festival, Alejandro Díaz Castaño, the director of the Huelva Ibero-American Film Festival, Manuel H. Martín, and the CEO of the Vilnius Film Festival, Algirdas Ramaška, have signed the statement promoted by the San Sebastian Festival, together with Filmoteca Vasca and Elías Querejeta Zine Eskola, to support Cinemateca Brasileira workers' complaints in their denunciation of the neglect suffered by the institution at the hands of the Brazilian federal government in recent years.
The fire of 29 July 2021 at the Cinemateca Brasileira facilities in Vila Leopoldina (São Paulo) has once again highlighted the serious danger hanging over the cinematic and cultural heritage safeguarded at the institution, one of the most important in Latin America. These are facts denounced by its workers for more than a year, after the closure of the institution and the loss of their jobs after months of working without being paid and having received no compensation whatsoever. Over these months, the leading international professional institutions and associations linked to the preservation and study of cinematic heritage (FIAF, CLAIM, AMIA, CCAAA) have added their names to the denunciation, demanding that the Cinemateca Brasileira be reopened, that the staff is reinstated and that its activities restart to preserve collections of an incalculable value, before it is too late.
This statement underline the solid commitment of international film festivals to the preservation and diffusion of international cinematic heritage and to the institutions and specialised staff making it possible. The danger for Brazilian cinematic culture is not a local problem, but a threat to cinematic culture as a whole: only by means of international collaboration and solidarity between festivals, film archives and academic institutions we can continue building the present and future of the cinema.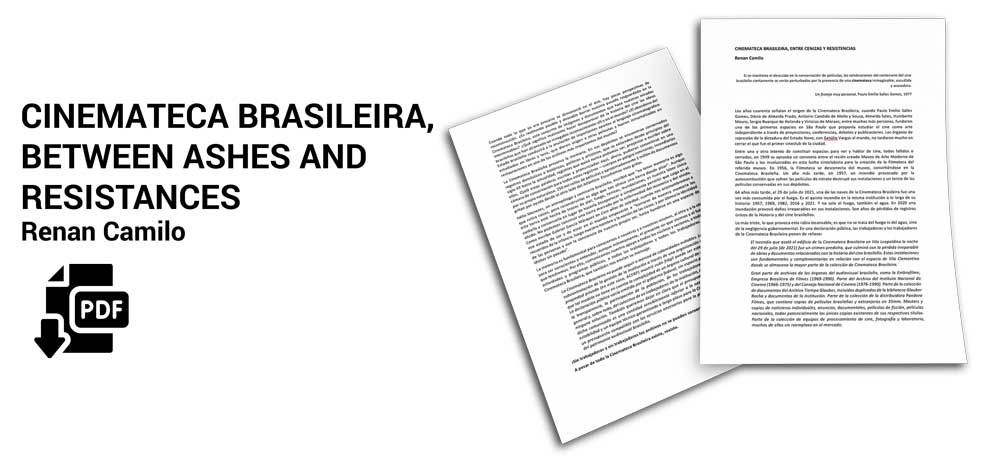 Text by Elías Querejeta Zine Eskola student Renán Camilo