Thirteen short films to compete for the Nest Award at the 21st edition of the section, which returns to its usual format
For the first time in the history of the international competition for film students two works in the Basque language have been selected
The 21st edition of Nest, San Sebastian Festival's international competition for shorts by film students, has selected thirteen films of widely varying format and subject, from amongst the 350 submitted by 160 schools in 44 countries. The selected works come from Brazil, China, Colombia, Dominican Republic, France, Germany, Japan, South Africa, Spain, Switzerland and the United States.
Organised by the San Sebastian Festival and Tabakalera International Centre for Contemporary Art, the Nest section screens the works of film students from all over the world, the moviemakers of today and tomorrow. As well as serving as a place to show and advise short films, Nest has the mission to provide a meeting point for students, filmmakers, industry professionals and the public: a space enabled by the Festival in which to hold conversations on the cinema and foster the crossover between training and the professional world.
The thirteen selected shorts will screen in the Tabakalera cinema from Monday 19 to Friday 23 September as part of a programme packed with activities; this year Nest will return to its usual format, the one it had before the pandemic, with masterclasses and social events, meaning that more than 60 film school students will gather in San Sebastian.
For the fourth year running, Nest will include a short film submitted by the Elías Querejeta Zine Eskola (EQZE), the school promoted by Gipuzkoa Provincial Council and with participation of the Festival, Tabakalera and the Filmoteca Vasca. The title of the film is Noizko basoa and it is directed by Mikele Landa Eiguren. The short film by a director from the Faculty of Social Sciences and Communication at the University of the Basque Country has also been selected: Erro bi, by Nagore Muriel Letamendia. This will be the first time in its 21 years of history that short films in the Basque language will have competed in Nest.
A jury made up of a recognised personality from the film world and students from the selected film schools will decide the Nest Award, coming with 10,000 euros for the director of the winning short.
Nest, one of the most important sections of the San Sebastian Festival within its strategy to promote new talents, celebrated its 20th anniversary last year. Since its creation in 2002, it has hosted more than 1,000 young moviemakers, around a hundred masterclasses and conversations with industry professionals (Céline Sciamma, Albertina Carri, Alexander Payne, Bertrand Bonello…), as well as having selected more than 350 short films. Considered to be the place where it all starts, Nest has shown the work of filmmakers including Jerónimo Quevedo, Kiro Russo, who have gone on to premiere their later works both at the San Sebastian Festival and at other events in the international circuit.
While the student meeting is being held, all the short films that have won awards to date will be screened in the Tabakalera Medialab Studio.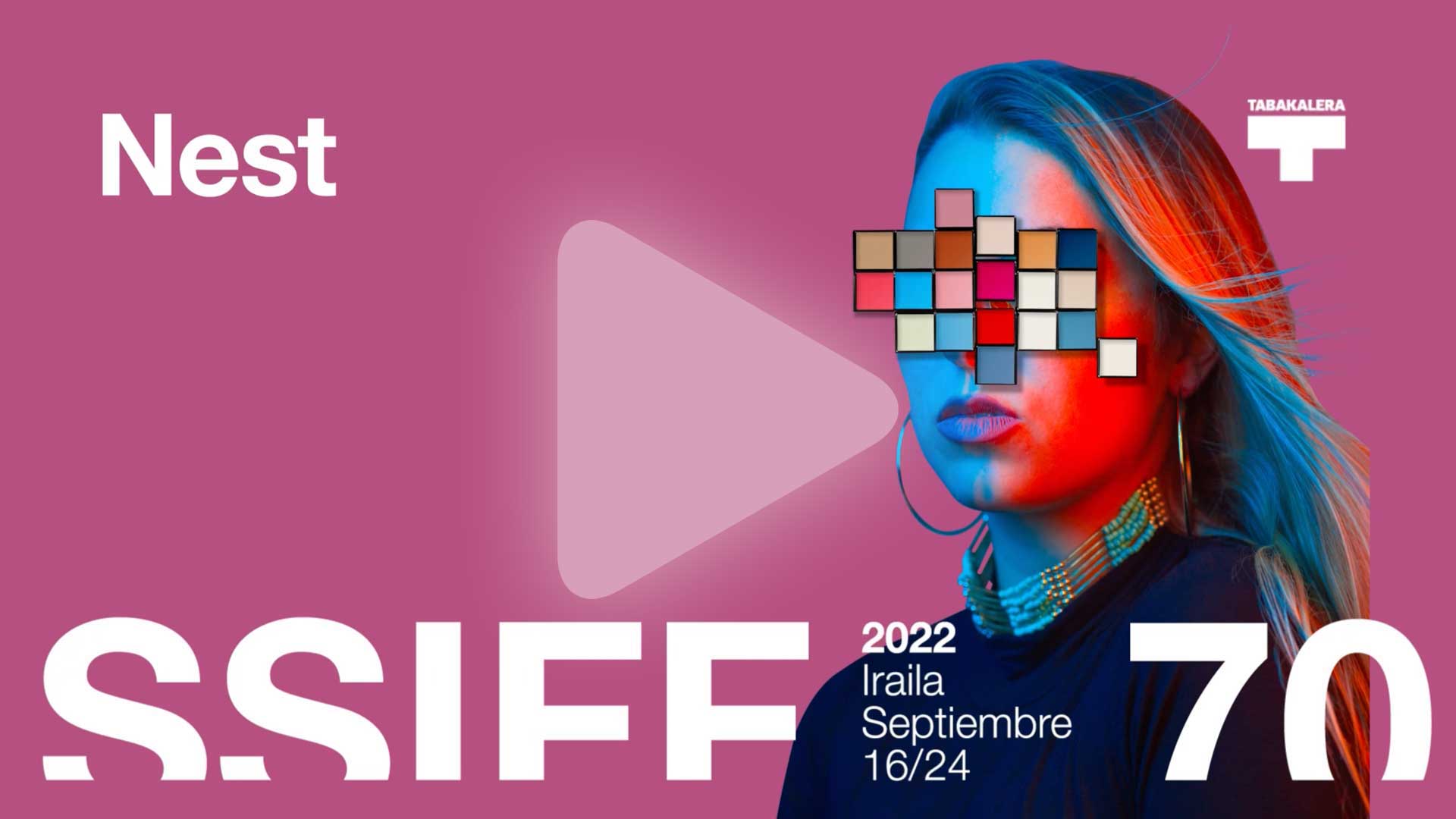 Allen Zweifeln zum Trotz / Against All Odds
(Short film)
Country(ies) of production:
Germany
Cast:
Johannes Degen
, Daniel Michel
Younus won't give up! The fascination for a strange yet familiar father figure mix with a growing longing for real intimacy. Cautiously testing and pushing boundaries, Younus plays a risky game. When the tension finally explodes, he questions the deeper foundations of this fragile relationship.

Country(ies) of production:
Switzerland
Cast:
Mina Squalli-Houssaïni
, Robin Belluard
Geneva, at night. The guards patrol the city and the soldiers train. Sony is a security guard, Ana is a bank receptionist. Around them, the city sinks into melancholy as two stars meet.

Après le rouge / After the Red
(Short film)
Country(ies) of production:
France
In Corsica, the inhabitants of a village witnessed a gigantic fire. A memory leads the filmmaker to this event that changed the course of their lives and left its mark.

Buxiaodema / Pass in Situ
(Short film)
Country(ies) of production:
China
In a town that is being demolished, a young man named Feng Hao tries to find Jian, who owes him money, so that he can pay for his girlfriend's abortion.

Nagore Muriel Letamendia (Spain)
Country(ies) of production:
Spain
Cast:
Ibone Ajuria Fondado
, Sonia Villamor
It's a year since Ainhoa's father died. Since then, mother and daughter live in the farmhouse they shared with him. Ainhoa would rather leave the place, a space that reminds her of her father. The mother, on the other hand, wants her daughter to stay with her. When a cow dies on the farm, her mother will use it as an excuse to stop Ainhoa from going to the city.

Kim Allamand (Switzerland)
Country(ies) of production:
Switzerland
City people set off into a warm late summer night. Glances meet in a library. At a workout, two men discuss where to buy love. A couple kisses intimately. She bites him. No sooner has he bought a match than a better offer calls. Doubts arise.

Ilanga Alikho / The Sun Is Missing
(Short film)
Advik Beni (South Africa)
Country(ies) of production:
South Africa
Cast:
Maqhawe Junior Madonsela
The son of a professional mourner has now taken up the mantle of his father. He is confused -he does not want to mourn anymore, but it is all he knows how to do. Soon enough he is traversing the vast mountainous landscape of Kwa-Zulu Natal as he struggles to find a place where he belongs.

Les hommes de la nuit / Men of the Night
(Short film)
Country(ies) of production:
France
At night and in the darkness of day, an explorer with binoculars and a notebook makes his way through the jungle of Borneo in search of orangutans.

Montaña azul / Blue Mountain
(Short film)
Sofía Salinas (Colombia)
, Juan David Bohórquez (Colombia)
Country(ies) of production:
Colombia
After filming his father's exhumation, Juan comes across a series of videos he had made on his rounds while working as a teacher and syndicalist. Juan visits different parts of his hometown following these images in search of memories of his father, murdered during one of the most violent periods in Colombia.

Noizko basoa / When Does a Forest Begin
(Short film)
Mikele Landa Eiguren (Spain)
Country(ies) of production:
Spain
A forest starts over. A town recalls the landscape it never saw. Hands, hoes, and boots that stir up the dry earth to bring to the surface the trees that once inhabited Ulla. Here the river is constantly born and murmurs an already forgotten language. Who will live in this forest when it exists? Can a forest be planted? Will someone give it a name? Where does a town begin?

Quem de direito / The Rightful
(Short film)
Country(ies) of production:
Brazil
Summoning documents, images and sounds from the archives to connect the past with the present in the struggle for land and water in the Guapiaçu valley region, Brazil.

Country(ies) of production:
Dominican Republic
Dolores, a strong and detached woman tasked with taking care of her deranged, ailing mother, is suddenly torn from her everyday life when a wounded dog falls from the sky onto the rooftop of her home. Through this newfound friendship, Dolores finds a way out of her monotony and embraces her wild side.

Tsuki no yoru / Moon Night
(Short film)
Country(ies) of production:
Germany
Cast:
Manaka Nagai
, Katsuya Abe
A young woman loses her mother. Life goes on despite the huge loss. She distracts herself from the grief and flies to the moon. A surprise awaits her when she comes back home.